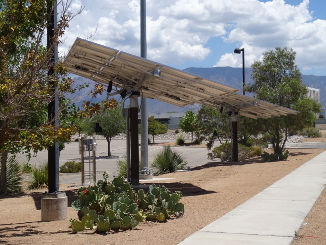 SYSTEM TYPE: Commercial

LOCATION: Albuquerque, New Mexico

DC POWER: 6.2 kW

COMMISSIONED: 2014In the greater Albuquerque area the Central New Mexico Community College Workforce Training Center is recognized as an important tool in the fight to create a skilled workforce and drive economic development. What many New Mexicans may not know is that CNM, and the Workforce Training Center in particular, is an avid user of renewable energy. After much deliberation, CNM installed two 3 kW Dual Axis solar tracking systems along their border with Interstate-25 to help offset building electricity costs and promote clean energy to the masses.