AccuRack AT Adjustable Tilt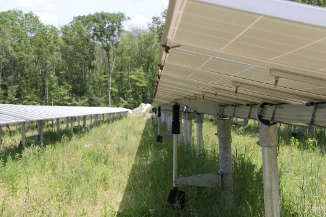 Simple installation and low maintenance, coupled with reliable construction and increased production, make AccuRack AT a viable option for any solar project.Optimize your solar array's position to follow the sun's seasonal changes. In seconds you can single-handedly adjust the tilt of the AccuRack AT, maximizing your power production. You'll capture up to 7% more solar energy compared to standard fixed-tilt systems.
Wattsun's AccuRack Adjustable Tilt mounting system allows owners and operators alike the opportunity to adjust the tilt of AccuRack AT from 0-60°, depending on seasonal solar conditions. The simple installation and low maintenance requirements, coupled with reliable construction, make AccuRack AT a viable option for any solar project.
Stress-free Installation – Our universal mounting system accommodates most modules. AccuRack AT's low-profile design allows all work to be performed at chest height or lower, which eliminates the need for ladders.
Sturdy and Reliable – Made with the same proven technology as our larger scale AccuTrak HZSR, AccuRack AT's wind load is rated to 90 mph.
Easy Adjustability – Modules sit no more than 5' off the ground which makes adjusting the tilt angles a breeze.
Low Maintenance – AccuRack AT's dry-slide bearings require no lubrication.