AccuTrak HZLA Tracker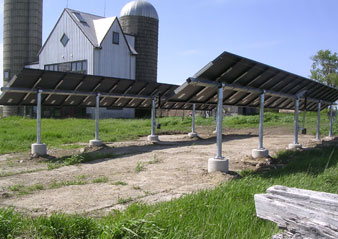 The AccuTrak HZLA single-axis horizontal row tracker uses a single drive and motor to move a row of modules East to West, following the sun from sunrise to sunset to maximize power production.Increase your energy yield up to 25% over fixed tilt using Wattsun's AccuTrak HZLA system. Our simple, yet durable, east-west horizontal row tracker design eliminates unnecessary components while increasing your ROI.
Wattsun's AccuTrak HZLA row tracker is a simple and reliable solution for any solar project. As the tough little brother of the proven AccuTrak HZSR large-scale tracker – the HZLA optimizes rapid install rates to offer a cost-effective and flexible solution for any residential project.
Flexible System – Put together multiple AccuTrak HZLA trackers laid out in long or short rows to fit your property's shape and meet your power production objectives.
Smart Design – Rapid assembly, minimal maintenance, and a low profile design make the HZLA a one of a kind racking system.
Fast and Easy to Install – The AccuTrak HZLA's low profile eliminates the need for ladders during installation. A universal mounting system accommodates almost any type of module and utilizes AccuTrak high-speed module mounting clamps.
Sturdy and Reliable – The AccuTrak HZLA is built to last of galvanized steel and anodized aluminum components. The HZLA's actuators have been field tested for more than 20 years. The dry-slide bearings require no lubrication.